The 9th conference of the International Society of Ecopsychology – this year in Italy from 20 to 24 September 2023 – hosted 134 people from 25 countries in the pine forest of Is Arenas in Oristano, Sardinia. In order to make a strong contribution to current times and needs, we chose an ancient land, in which the memory of our profound connections with the vital energies of the planet is still alive, is still inscribed on the profile of the territory and in the ecological unconscious of its inhabitants. A Sardinian expression "Su sentidu" was chosen – what I feel deeply – which recalls "a precious internal function to draw on for responsible and inspired action on our Earth", precisely to indicate that necessary reconnection with our emotional dimension and values, with our ability to feel, to marvel, to savor and to express that sense of reverence that spontaneously awakens before the beauty of Nature. And, to tune into this wavelength, a traditional Sardinian tenor song, performed by a group of four men with four different voices, opened the conference in the heart of a spiral created by all the participants.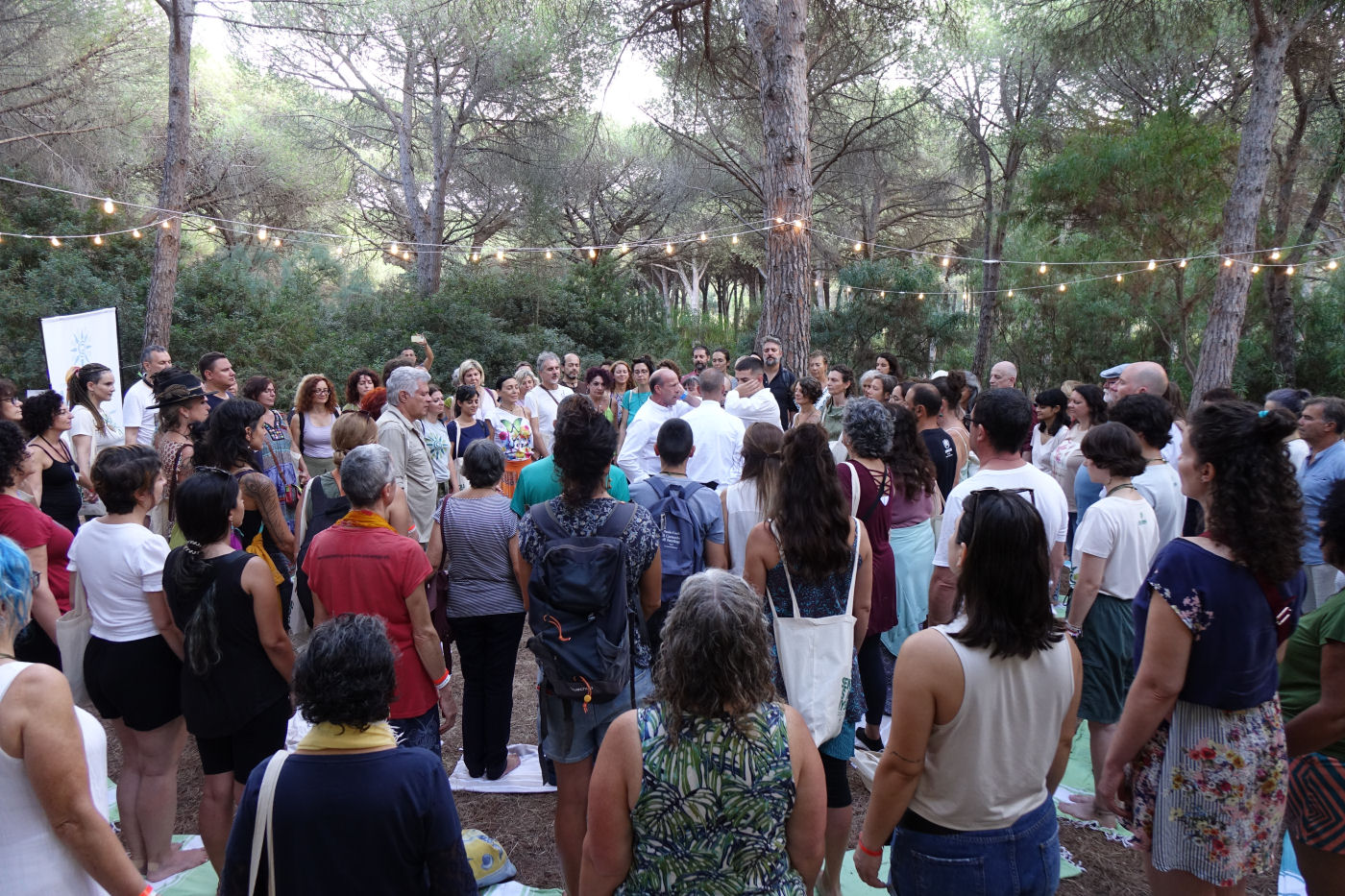 September 20, 2023
The conference begins with the greetings and welcome of Marco Aurélio Bilibio Carvalho – ecopsychotherapist, IES Brazil, president of the international association – who introduced  Ecopsychology as a psychology for all our relationships, to support one of the great revolutions that we are going through: the transition from a world seen as a machine, for our use and consumption, to a world in which many different species share forms of consciousness. The ongoing transition is one that moves from the idea of a world made for us, to the idea that we are made for this world, as part of it. The transition takes us from a relationship of exploitation to one of communion and cooperation, which brings with it something sacred. Joanna Macy calls this transition The Turning Point, others call it The Great Transition. It is a transition from an industrial growth society to a society that, recognizing our biological, psychic and spiritual ties to planet Earth, organizes itself to protect the systems that generate and sustain life. Ecopsychology provides inspiration and practices for this change in our conception of the human being.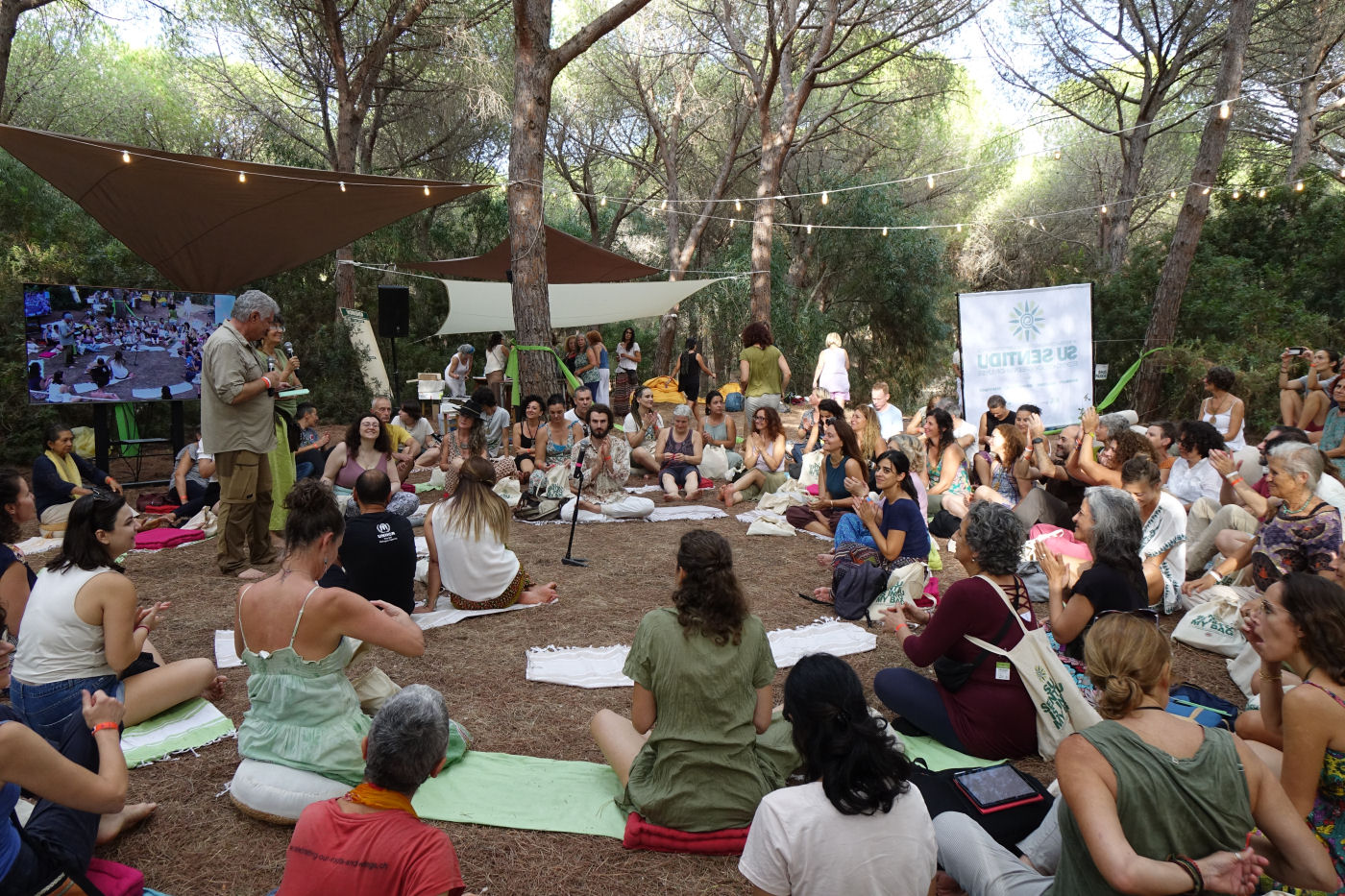 The opening continued with Marcella Danon – ecopsychologist, IES Italia, and co-founder of IES, in 2006 – and with an appeal to active hope: we can all become an active part of the process, catalysts, each around us, of the awakening of this broader earthly citizenship that allows our innate love of life, Biophilia, to translate into beauty, and co-creation to find a new path for our humanity. Life proceeds through trial and error: many different species were born, evolved, proved unsuitable for the planet and became extinct. Many homo species preceded us. If we want to be the one who includes all the inhabitants of this Planet, the one who manages to overcome the evolutionary challenge, we must all activate ourselves, body and soul, each as we can, where we can, where we are, where life has put us in a position to act so that this shared mission becomes a "possible mission".
September 21, 2023
The first morning was dedicated to the transdisciplinary approach of ecopsychology explored from three different points of view.
Our conference was inaugurated with a special guest, prof. Giuseppe Barbiero, biologist and ecologist; who created the first ecopsychology course in an Italian university in collaboration with Marcella Danon and now also with Stefania Pinna. Giuseppe Barbiero directs the Affective Ecology Laboratory at the University of Valle d'Aosta and spoke to us about Affective Ecology, a discipline that is developing in parallel with Ecopsychology, which deals with the emotional relationships that are established between humanity and Gaia. In these ten years, affective ecology has been committed above all to the experimental verification of the biophilia hypothesis, researching the parameters with which to proceed, exploring its psychological effects and seeking how, in practice, to create environments of high biophilic quality, both internal, as in the case of Green Mindfulness in ecopsychology, and external as in the case of Biophilic Design, in architecture.
The speech continued by exploring how all these reflections completely change our approach to human ecology, starting from the assumption that disease is a normal response to an abnormal culture that does not satisfy basic human needs. Lia Naor – nature therapist and researcher at the Department of Counseling and Human Development of the University of Haifa, IES Israel – spoke to us about it – committed to promoting an initiation process that favors human development starting from the search for the profound meaning of existence and by the invitation to take on the responsibility of participating fully in the human and terrestrial community. Nature becomes a reference and guide in the creation of new models for human development that also includes spiritual values.
Claudio Antonio Pereira Salazar – ecopsychologist, doctor in communication, social change and human development, IES Chile – brought the vision and practice of Community Social Ecopsychology in place in the IES Koru Transformación School, which he directs together with Marian Rios. In addition, everything what was said before he transformed into concrete, transdisciplinary tools. We explored together: what the current global crisis is and the necessary paradigm shift; what is an ethic of belonging and solidarity; what are the contributions of community social psychology, participatory action, popular pedagogy, liberation psychology, deep ecology, ecofeminism, gender perspective and ancestrality.
September 22, 2023
The conference continues on the themes of Sacredness and Nature, exploring how these two themes are connected and why they have a central role in our conference.
The day began with Silvia Mongili –  pedagogist, doctor in Training Quality, coordinator of Ecopsiché Sardegna, the Italian School of Ecopsychology, as well as the main organizer of this conference. Speaking of sacred places, Silvia brought us an exceptional presentation and testimony from her land: this ancient land of Sardinia where territory, tradition and music are closely intertwined, to honor the ancestral presence of the Mother Goddess. It allowed us to delve deeper into the profound meaning of Su Sentidu, in the Sardinian language, and why we chose it as the title of the conference, underlining that there is a relationship between the connection with one's roots, one's history, one's origins, and the deep sense of responsibility towards the environment. Together with Silvia, there was also Alessandro Caddeo, educator and green coach, who wrote his degree thesis on the topic of Sardinian tenor singing.
Speaking of ancient lands, Kleio Apostolaki –  ecopsychologist, specialized in dynamic and cognitive-behavioural psychotherapy, IES Greece – enters into the discussion by highlighting that sacredness has a strong value in Ecopsychology, which starts from the assumption that "All places and all people are sacred". Kleio told us, starting from her experience, what it means to work ecopsychotherapeutically in sacred places and how this contributes to restoring our connection with Nature. Kleio is, in fact, specialized in choosing special locations for its seminars, such as the island of Gavdos, in the heart of the Mediterranean or the slopes of Etna, in collaboration with the Italian School and has worked for years with dolphins, sacred animals in many cultures.
And here arrive to Marian Ríos – ecopsychologist, anthropologist, transpersonal psychotherapist and Primal dance teacher, IES Colombia. The theme of the sacredness of places continues, with the presentation of the headquarters of the Koru Institute, the Colombian/Chilean School of Ecopsychology which is located in the heart of the Darién jungle, a multi-ethnic territory, surrounded by indigenous and mixed-race communities. With Marian we discovered why the name, Abya Yala, is increasingly used to refer to the American continent; what is meant by deconstruction of the imaginary, an inevitable step towards an ecopsychological vision of the world; and how we can free ourselves from the colonial matrix of power and recover and recreate our models of life and interaction with the world.
September 23, 2023
Towards a green mindfulness was the culmination of all the talks over the last few days. We explored how to translate these new visions into practice, how to promote the broader awareness that we are an active and co-creative part of creation, and how to facilitate the experience of this broader state of consciousness, of a green mindfulness.
Claudia Rodrigues – ecopsychologist, specialized in clinical psychology, health psychology and psychotherapy, IES Portugal – guided us in a reflection on the collective and individual need to create new strategies for encounter and co-creation between the masculine and the feminine, on social and archetypal levels. She took us into the relationship that exists between the feminine dimension and the environmental crisis; the gifts and teachings of the Neolithic cultures told by the sociologist Riane Eisler; and what the ecopsychological approach called "Ecoexistential Integrative" proposes to facilitate in living beings their most sublime, mysterious and regenerative potential.
Zselyke Molnos – psychologist and biologist, IES Hungary – began by examining two powerful processes at work, on the one hand the ongoing collapse on an environmental and social level, and on the other the awakening of a new sensitivity towards Nature and the non-human world. She brought the following questions to the audience: What do we need to connect to the more-than-human Nature? How can ecological literacy contribute to the awakening of ecological awareness? How can we create an emotional connection with nature and consequently transform our behavior? And, above all, Zselyke and her colleagues brought a testimony and documented with several examples their concrete work with groups and in communities by combining ecotuning practices (Applied Ecopsychology) and Playback Theatre.
Last but not least, Geoff Berry – doctor of ecological literacy, mythologist, Zen practitioner; IES Australia – joined us with whom we explored the metaphor of light in the mythical dimension. Light that on the one hand is that which comes from outside, from the sun and the stars, and on the other hand that which comes from within, the light of knowledge of seeking and giving meaning. Together we listened to how to recover the inspiration that comes to us from Zen and other animist visions for which the living world is both matter and awareness; how, starting from the "right relationship" with the light outside and the light inside we can build a kind relationship with other animals, plants, places and elements of our world and, finally, how Ecotuning (Applied Ecopsychology) reconnects us with our light and with natural ecosystems.
September 24, 2023
The last day of the conference was dedicated to a long and moving moment of reflection, sharing and collective celebration to honor one of the participants who suddenly passed away during the previous night, lost in the embrace of the sea. A seductive sea with its archetypal strength, from which life originated and with which the strong urge to merge again had been felt by many on that stormy night. One of us could not resist the call and met a destiny whose meaning will become clearer with time, leaving a strong mark on an event in which joy and enthusiasm had been the characterizing note until the night before. At the moment, strong throughout the international community, the pain and sense of loss. But even stronger is the intention to give a higher meaning to what happened to insert this event into a broader vision, typical of Ecopsychology, in which birth and death are the two sides of the same coin, this wonderful life in which we experience ourselves as spiritual beings having an earthly experience. Renata, dearest, may our love be your guide and support on your journey where our eyes do not see you, but our heart does.
The conference gave birth to 26 workshops in 47 editions, moments of celebration, dances and songs, walks, talks in 4 languages and more, exchanges, encounters, seeds of future projects and collaborations. The 9th IES conference was an agorà of emerging possibilities, an opportunity to meet between friends and colleagues who have been meeting periodically for 17 years now and an opportunity to get closer to Ecopsychology from countries where there are still few representatives of this transdisciplinary approach, in particular we had with us, for the first time, colleagues from Norway, Latvia, the Czech Republic and Romania.
Mentioned over and over again during the event, and inevitable to mention once again: compliments to the organizing staff who began to work two years ago for the realization of this original and challenging proposal to hold an international conference in a campsite in a pine forest, situated at the sea, an ideal setting for those who work with Ecopsychology. An immense thank you to La Factoria, the cooperative of Silvia Mongili and Giampaolo Meloni, within which the activities of Ecopsiché Sardegna are organised. Also many thanks to the very young Francesco and Esty for their collaboration and to Luisa Picenni and Marcella Danon of Ecopsiché – Italian School of Ecopsychology, one of the 10 Schools recognized by IES.
Beating heart
Silvia Mongili & Giampaolo Meloni – La Factoria – Ecopsiché Sardegna
Luisa Picenni – Ecopsiché – & Francesco and Ezsti
Marcella Danon – Ecopsiché and IES Italia
and Marco Aurelio Bilibio Carvalho – IES Brasile and Presidente IES
See you at the next conference!
Brazil 2025